Kris Routledge has recently been appointed as our Warehouse Controller at Signal Plastics. This is a new role in the business, and is a sign of our continued business growth. Kris has six years of management experience in warehouse distribution, which includes four years as a Warehouse Manager and 18 months as an Internal Logistics Manager.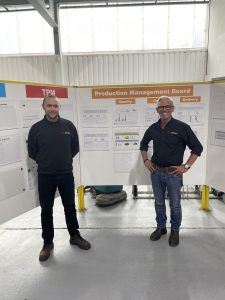 Kris' experience lies in implementing safety frameworks, including risk assessments, standard operating procedures and safety walks & meetings.
As part of Kris' role, he will ensure that 5S and safe working conditions are maintained in all areas of the warehouse and yard. He will confirm that Vehicle and MHE maintenance checks are complete, as well as certifying that all staff are trained on their respective departments.
If you are interested in working for Omega Plastics Group please click here.
To follow future company updates please click here.
If you wish to contact us please get in touch, email sales@omega-plastics.co.uk, or call us on 01670 541 890.