As the regional finals of the 2018 North East Business Awards get under way, we wanted to talk about what the title has meant to us and what the next winner has to look forward to.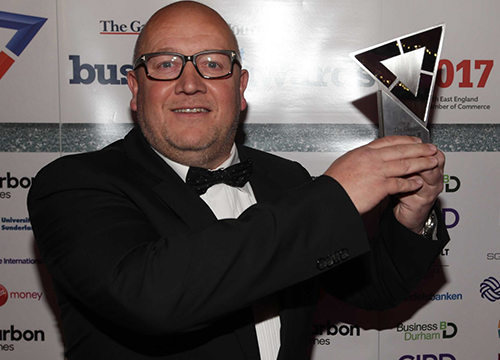 After scooping the top award at the Sunderland and South Tyneside sub-regional final in March 2017, we then went on to beat fellow finalists Metnor Construction and CPD Bodies at the regional final, securing our place as Company of the Year for the whole of the North East.
"To be recognised as Company of the Year was a huge compliment to the team at Omega Plastics," said Dave Crone, group managing director at Omega Plastics.
"We have received fantastic responses throughout the year from customers, suppliers and competitors both nationally and internationally, who recognise that being named Company of the Year is a fantastic achievement and a great way of promoting both the manufacturing industry and the company and its values to potential new business leads or partners."
Awarded in recognition of our business growth, which included a merge with Washington-based firm, Signal Plastics, a move into a larger premises and over a quarter of a million pounds' worth of investment in new technology in order to keep up with customer demand, receiving the Company of the Year award was really the cherry on top of a fantastic year for us.
Since winning the award, we have continued our growth trajectory, securing a number new business wins with blue chip organisations across the automotive, medical and FMCG sectors, as well as launching our own education program in partnership with a local secondary school.
"Awards programmes like the North East Business Awards provide business owners with a unique opportunity to measure the progress and success of your organisation against other companies operating in the region," Dave said.
"They are also an opportunity to engage in the local community, promote internal success and encourage the idea that by working together, we can all make a difference in the businesses we are engaged in."
We will be handing over our Company of the Year title to the next worthy recipient at the 2018 North East Business Awards regional final held at Hardwick Hall in Sedgefield on 26th April.
When asked what advice he would give to the next winner, Dave said:
"Celebrate your success with the people who have contributed to it and don't be afraid to promote it.
"There will be lots of temptations to make changes to your business after the event, some of which will be more beneficial than others, but my advice would be to stick to the formula that brought you the success in the first place. Be proud of what you have achieved, not distracted by what you can do next."