Following a period of rapid growth we are gearing ourselves up for another fantastic year ahead with some key new appointments.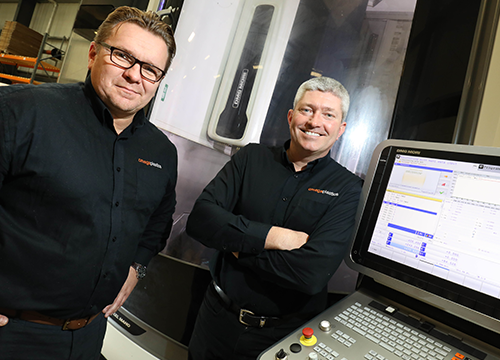 Keith Moody has been appointed as project manager while Krzysztof Wieckiewicz has been taken on as a quality engineer.
Having worked for the Omega Plastics Group before as a key account manager in his new role as project manager, Keith is responsible for the management of new tooling projects from the initial purchase order through to tool sign-off or production release.
With over 18-years's experience in toolmaking, with 10 years of this being spent in tool design, Keith was the ideal fit for this position, which will see him primarily focused on tooling products managed offshore.
Working closely with our teams based in Washington, Blyth and Hartlepool, Keith provides a full service for our customers, guiding them through each stage of the manufacturing process and assisting with any development work during the project.
About his new role, Keith said:
"In my previous employment, I looked after large new product development projects that were manufactured offshore in China, so I spent a lot of time travelling back and forward managing these.
"When the project manager role looking after offshore tooling came up at Omega Plastics, I t was the ideal opportunity for me to combine my knowledge of tooling and product design together with my experience of working on offshore projects and get back into the industry that I've spent most of my working life in.
"Having worked for the company before, I already knew the business really well and this role was exactly the challenge I was looking for so I'm delighted to be back on board with a great team."
Careers
Browse the available vacancies at Omega Plastics
Newly appointed quality engineer, Krzysztof Wieckiewicz, has joined the Omega Plastics Group from one of the North East's major automotive manufacturers.
In his new role, Krzysztof is responsible for maintaining quality assurance procedures, carrying out quality tests and recording and analysing data collected throughout the product development and manufacturing process.
When asked about his decision to join our team at Omega Plastics, Krzysztof said:
"Having worked in the UK automotive sector for over 12 years, I was already aware of Omega Plastics and I personally know a handful of people who had worked there so I'm delighted to have been given the opportunity to join the company.
"The team are absolutely fantastic and there are lots of opportunities for future growth, so I am happy to be part of it."
Group managing director, Dave Crone, said:
"2017 has been an outstanding year for the Omega Plastics Group. Not only were we crowned the North East Company of the Year, but we successfully secured new business contracts with a number of major blue-chip organisations and we have strengthened our position as a leading supplier to the North East's booming automotive industry.
"We are dedicated to driving continuous improvements across the Group and our investment in key new members of staff is just as important to the ongoing success of the business as our investments in new equipment at our manufacturing units.
"Our latest recruitment drive comes as we push towards making the company ready for another year of stellar business growth which we hope in turn, will make way for more new appointments in the near future."