Following our certification back in 2016 for ISO/TS 16949, we have now been recertified against the newly released IATF 16949:2016 automotive standard to ensure that we are compliant with the significantly revised automotive standard.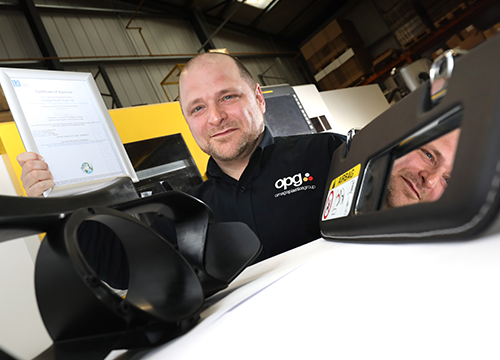 Paul Anderson, group quality manager, explained:
"The International Automotive Task Force (IATF) has developed the revised IATF 16949 standard in partnership with manufacturers and suppliers operating in the automotive sector and engaged Automotive Industry Action Group (AIAG) members to ensure that the standard meets the demands of the sector's key players.
"The new certification mergers standards from across Europe and the USA and details best practice requirements for designing, developing, manufacturing, installing and servicing in the automotive sector.
"Omega Plastics Group (OPG) has to undergo a full, third-party audit of its quality management systems and processes at Hartlepool, which took around seven days to complete and covered all of our procedures from materials being delivered, through the manufacturing process to delivery and customer satisfaction.
"This was a really intensive process so are delighted to have once again met the criteria to receive the accreditation. We're currently one of the only manufacturers in the North East to have gained IATF 16949 so it's something we're incredibly proud of."
Contact us
To learn more about our automotive capabilities
As an internationally recognised standard, it is often a prerequisite of working with automotive companies that manufacturers have an IATF 16949 compliant quality management system to ensure customer satisfaction and continuously high standards.
With a lot of our business being with blue chip car manufacturers and OEMs operating in the automotive sector, receiving this accreditation is a real asset to the business.
Dave Crone, group managing director, added:
"Many of our current and future customers demand IATF 16949 as the minimum requirements for supplying products to them so to have secured the certification to the new standard under the new, more complex legislation is a fantastic achievement and testimony to the hard work and expertise of the team here at OPG.
"The accreditation will now last for three years, however we will receive annual visits from our third-party auditors and we will need to carry out internal audits to ensure continued compliance to the standard and our customer specific requirements on a regular basis.
"In the near future, we will be looking to replicate this accreditation process at our site in Washington, who are currently working to the IATF standard, which will help to increase our capacity and ensure standardised quality production across our facilities."
To learn more about what we can offer to the automotive sector, please view our sector and service pages.