For many companies the uncertainty surrounding Brexit is causing a number of boardroom headaches but one leading North East plastics manufacturing firm is saying now is the best time to relocate your production work back to the United Kingdom to enjoy significant savings!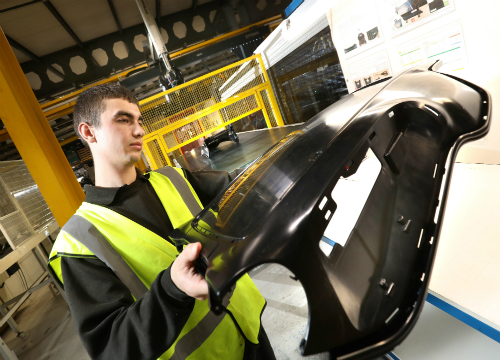 Award-winning Washington-based Omega Plastics advises that relocating can reduce costs on logistics, material supply and packaging, and at the same time adding an element of reassurance for the customer that a product is being made in the United Kingdom. This importantly isn't reliant on which particular way the Brexit negotiations fall. Relinquishing ties with Team GB can also help to eliminate the risk of 'currency fluctuation'.
Omega Plastics, which employs over 150 staff across three regional sites including two factory units in Blyth and Hartlepool, can proudly name Aston Martin, Jaguar Landrover, Nissan and Honda on its client list; and in 2017, Omega Plastics won Company of the Year at the North East Business Awards.
Omega Plastics would like to cast the net out and express to new and existing customers thinking of reshoring "why not knock on Omega's door". For example, they have a 1,300-tonne production machine capable of producing plastic components up to a meter square and 5 kilos in weight (as seen in the attached support photograph).
The kind of products this particular piece of machinery excels in turning around in high volume are well suited for the automotive, construction, white goods and aerospace industries.
[news-CTA]
The list includes automotive parts from engine covers to seat and fuel system components; large panels for white goods; Heating, Ventilation, and Air Conditioning (HVAC) covers; large structural components used in aerospace; and items for the construction industry (loft hatches, ventilation grills and drain covers).
Julian Jamieson, Operations Director for Omega Plastics, said: "The world of manufacturing is all about quality, costs and time. The trick is to find a healthy balance between all three. What we offer at Omega Plastics is a good quality product that can be shipped anywhere in the world. But in these current times of uncertainty when UK companies are being more cautious, then why not look closer to home when placing your next order.
"We have always prided ourselves at Omega Plastics in coming up with the best solutions and delivering the goods. We will explore every avenue of design and technology to produce what the client wants.  Once a job has been booked, a team is assigned to create and monitor the production every step of the way.  Reshoring doesn't have to be a chore."
To find out more about our range of services, click here or email sales@omega-plastics.co.uk.