Tackling climate change and protecting the environment is a hot topic in the plastics industry today. Pressure is mounting on plastics processors to carefully consider what equipment to invest in for the future where energy efficiency and clean manufacturing is becoming even more important.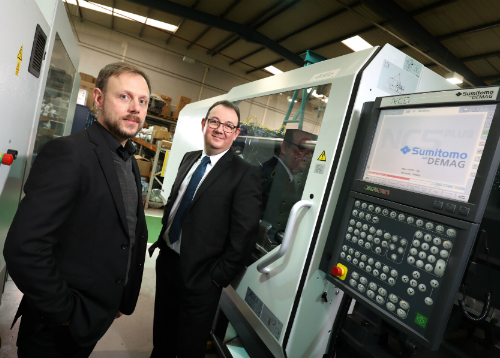 It is clear that electric vehicles are gradually taking centre stage but is this the case for the plastics machinery business. Gary Powner, Managing Director at Omega Plastics not only thinks so, but is actively taking steps to ensure his company is playing its part by investing in the latest all electric injection moulding machines from Sumitomo (SHI) Demag.
"It makes perfect sense to invest in the latest clean technology here at Omega," Gary says. "At the moment, there is a premium of about 20% to pay compared to that of a hydraulic machine, but when you then subsequently save between 40% and 70% on energy costs, it doesn't take long to recoup the additional cost and start making further savings."
This will be Omega Plastics' second all electric machine from Sumitomo (SHI) Demag and will be replacing an older hydraulic machine at its factory in Blyth, one of three facilities the company operates across the North East. Gary continues, "We bought our first Sumitomo Demag IntElect machine about three years ago and it's never missed a beat. It is quick and easy to set up – the NC5 control system is very intuitive. It's class leading and that's why we are investing again. We are already operating clean tech, all electric machinery at our factory in Washington, so this latest investment will go a long way towards bringing our other facilities up to the same high standard."
Page

Click to find out more about the range of services we offer.
Ian Jobling Area Sales Manager for Sumitomo (SHI) Demag says, "The new 160 Ton IntElect machine that we have supplied to Omega Plastics will ensure the company is prepared for the future. Omega are a great company to work with and it's always a pleasure to see our customers achieving their goals by adopting a smart investment strategy."
Sumitomo (SHI) Demag the Japanese/German manufacturer has reported a significant shift in the market over the last three years as its customers move from traditional hydraulic machines to more environmentally friendly alternatives like its Systec 'Servo' Hydraulic option and the IntElect all electric machine. To date the company has produced over 125,000 machines of which 65,000 are from its all electric range.