Vinnie Bright (Apprentice Toolmaker)
In our Toolroom at Omega Plastics, Vinnie Bright has been working as an Apprentice Toolmaker since November 2020. Vinnie came to us through Tyne North Training to work towards his NVQ Level 3 qualification in CNC Milling.
Vinnie told us "The experience I have gained through working with the highly skilled toolmakers in the business is invaluable for my development. The working practices involved with highly intricate and technically challenging tooling are the foundations for future success".
"My time here has been great, at my previous role I was only involved in making turned parts for tools, such as reverse inlets, but Omega has given me the opportunity to work within CNC Milling and use the new CNC lathe. Working within Milling was something that I was looking to move into later on in my career, however Omega Plastics have given me this opportunity so this has definitely progressed my career at a quicker rate than I expected".
Steve Fairbairn, Head of Tooling at Omega Plastics, said "Vinnie has been with us for 10 months now. He's settled in at Omega Plastics and is progressing well, he's shown himself to be quick learner and an all-round pleasant colleague".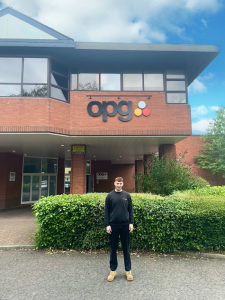 Vinnie has been teamed up with one of our more experienced Apprentice Toolmakers, Luke McMorris, who has been with Omega Plastics since 2015. Vinnie and Luke work together to prepare machines in accordance with each order, setting up the required cutters in their holders and setting them in the machine. Luke told us "It's quite a long process learning the different skills in this job as there's so much to do from the CAD, CNC machining, stripping and building tools, and more. It's enjoyable, as you're doing something different every day".
James Sayers (Business Administration)
At Signal Plastics, James Sayers joined in January and has been working towards his Business Administration Apprenticeship Level 3 Diploma. James also came to us from Tyne North Training, and his primary role has involved providing support for both Planning/Materials and Finance in a range of key activities. James has been particularly interested in developing his knowledge of the financial side of the business – how the business makes profit and what elements can be looked at to increase profitability.
As well as various administrative tasks, such as data entry and electronic filing, James gives practical assistance by using Sage 200 to generate work orders and maintain a live delivery schedule, whilst generating reports to aid business needs. James' support has helped to accelerate the various continuous-improvement projects at Signal Plastics, including the tracking of supplier deliveries and helping to achieve transport spending targets.
James commented "Since I've began I have been able to express myself in my role. Currently I am carrying out transport administrative tasks to overview our spending on transport and how we can improve as a business. The processing of data is also a large part of my role, understanding quantity levels of stock and further needs for the business. Creating databases through Excel and learning advanced formulas has significantly improved my IT skills which is essential for my career".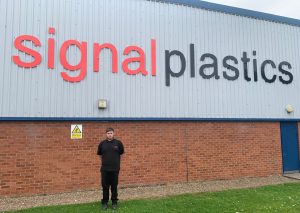 "I have enjoyed my time working at Signal Plastics, it's a great environment to work in. My colleagues' professionalism has enhanced my personal development and my communication skills have improved as my confidence levels have increased".
Kade Blackburn (Production Operator)
Kade Blackburn also joined us in January as a Production Operator at Signal Plastics. Kade studies through Sunderland College and is currently working towards his Level 2 diploma in Lean Manufacturing. He was able to quickly pick up the skills to allow him to spend the majority of his time running the injection moulding machines and checking for any quality concerns, but he has also gained experience on the assembly lines.
Kade told us "I am a hands-on person so the opportunity to work as a Production Operator was a fantastic opportunity for me. My colleagues have been great and if I've ever had any questions they have always been there to help".
"My day-to-day activities involve understanding what the manner of the tasks are that day. When operating the machines, I check if there are any mould faults on the parts and make sure that customer expectations will be met".
"I have really enjoyed my time here, there is a great working atmosphere and there have been no problems. My communication skills have developed through meeting new people and once this course has been completed I will feel ready to move into Signal Plastics full-time.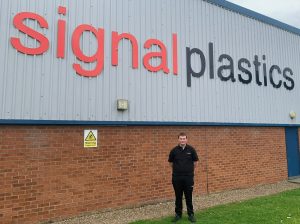 David Robinson, Production Manager at Signal Plastics, said "Kade has come into the business and shown great enthusiasm and willingness to learn the processes from day one. He's proved himself to be a great asset in the business over the past months, and I look forward to seeing his progress as we continue".
We are continuously monitoring the different apprenticeships available, and how we can make use of them across the business so we are able to develop our own talent to continue to support the future of the business. Julian Jamieson, Group Operations Director, said "We want to support young workers in the North East and assist them in gaining the skills and qualifications to grow professionally and have successful careers in their chosen field. The skills that our apprentices are learning are invaluable for their future careers and we want to support them in every way possible".
If you are interested in working for Omega Plastics Group please click here.
To follow future company updates please click here.
If you wish to get in contact please get in touch, email sales@omega-plastics.co.uk, or call us on 01670 541 890.