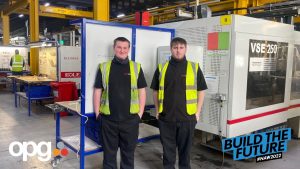 This year's National Apprenticeship Week kicked off on Monday 7th February, giving us the perfect opportunity to celebrate the incredible work and achievements of our apprentices here at Omega Plastics Group.
We currently have three apprentices, two based at our Signal Plastics site in Washington and one based at the Omega Plastics site in Gateshead. All three apprentices are studying a different qualification and hold a different job role respectively.
Apprenticeships are an excellent way for our staff to build their futures by gaining qualifications while working and earning at the same time. Having employed many apprentices across our business over the years, we have always been keen to celebrate the success stories and achievements of our apprentices, and there is no better week to do it!
Let's check in with the apprentices across the Signal Plastics and Omega Plastics sites.
Kade Blackburn – Lean Manufacturing Apprentice, Signal Plastics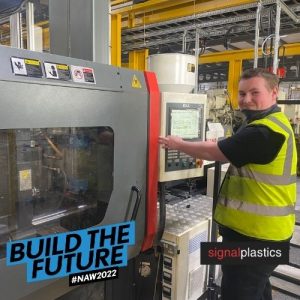 Kade began his apprenticeship back in January 2021, he is based at our Signal Plastics site in Washington. Kade was originally at college studying Engineering, however he wanted to do something a bit more 'hands on'. An apprenticeship offered the perfect route for training.
Kade has really enjoyed becoming part of a team whilst training and feels that his communication skills and knowledge have really developed since the start of his apprenticeship. He is currently involved in the production of components, as well as the assembly to produce a completed product. He has experience in working on a number of different machines, more recently on a small press machine.
He is due to complete his Level 2 Lean Manufacturing qualification at Sunderland College this year.
Kade said;
"I really enjoy the production side of my job, as well as the varied aspects of the role. I look up to my manager Dave Robinson, I would love to take over from him one day! My aim is to complete my apprenticeship this year and to progress into a higher role moving forward."
James Sayers – Business Administration Apprentice, Signal Plastics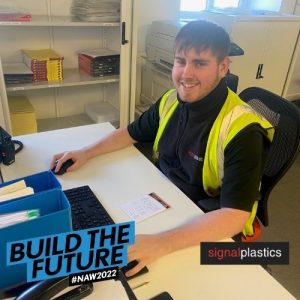 James joined Signal Plastics as Business Administration Apprentice in January 2021, studying for a Level 3 Business Administration qualification through Tyne North Training.
James first became interested in the apprentice opportunity as he performed well in Maths at school and continued to have an interest in data and analytics.
He did spend some time wanting to become a Physiotherapist, but eventually decided this was a better option for him. The apprenticeship enabled him to utilise his strengths, and in an area he enjoyed working in – so it was the perfect match!
In his previous role prior to starting the apprenticeship, James didn't do anything with computers. He feels that his computer and communication skills have improved since starting and gets the opportunity to work with customers directly which he really enjoys.
James said;
"My favourite part is being part of the team; we have had a lot of new members join recently and all of us really come together well. I look up to Ged Pattison and Brook Dickens who I work with at Signal Plastics, they inspire me to progress in my career with the jobs that they do. I would love to be the head of the company one day; everyone is older than me – so hopefully there will be a chance for me to step into their shoes!"
Vinnie Bright, Apprentice Tooling Engineer, Omega Plastics.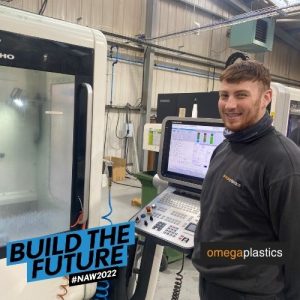 Vinnie started working for Omega Plastics on November 1st 2020 and is currently at Tyne North Training, studying Level 3 Advanced Engineering.
Having family working in engineering, he was encouraged to pursue a career in this field. He always considered it a great skill to have and a great career choice, so he jumped on the opportunity when it came available to him.
Vinnie is due to complete his apprenticeship this year but believes the learning won't stop there!
He commented;
"I always wanted to work in engineering, I did fancy welding or working on turbines, but as soon as I started the machining, I really enjoyed doing it. I'm well supported by the whole team, it's good that I can make a mistake and be shown the right way to do it, rather than be told off! I don't feel scared to say if something hasn't gone how it should, I am able to ask for help and learn from the process. As an apprentice it's reassuring to know that.

All the toolmakers here have knowledge that can't be taught! The people within the business I look up to are Mark Brown, Martyn Musgrave & Shaun Stannard – they're clever lads! I hope to progress at Omega Plastics, but if the job enables me to go to other places in the world to experience working in different countries, that would be a great opportunity."
We're delighted and proud of how committed each of our apprentices continue to be. They have individually worked incredibly hard to both learn new skills and extend their knowledge both on the job and through their training providers.
Iain Lyon, Head of UK Tool Manufacturer at Omega Plastics commented.
"It is important to us to ensure that we have a good stream of well-trained young people coming through to complement our highly trained and efficient workforce. Apprentices inevitably will be future skilled personnel and will work some part to ensuring the longevity of the business along with contributing to its profitability."
We'd like to personally thank Vinnie, James & Kade for their hard work and continued commitment to Omega Plastics Group.
If you would like to know more, please contact us by:
Phone on 01670 541 890 or visit omegaplasticsgroup.co.uk for more information