We continue to follow the general UK government guidance as well as the specific advice for manufacturers as we adapt to the daily changing landscape.
We are very proud to have worked with Nissan, Renault Sport Racing, Red Bull Racing, Project Pitlane F1 teams and Olympus KeyMed to tool and mould all 11 plastic components needed for the Project Pitlane BlueSky ventilator project. We were asked to join the team producing the prototype ventilator designed by junior doctor, Alastair Darwood and identified as useful in the fight against COVID-19, as a result of our pedigree rapid tooling and experience in medical tooling and moulding. We worked closely with the team with the aim of delivering multiple units of the ventilator in extremely tight timescales.
We started work in the early hours of Friday 3 April and working 24/7 within 8 days we had moved through design for manufacture, purchasing, tooling manufacture for all 11 tools, capability studies, material selection and had started to mould production components. We were ready to go. Based on the scientific advice on the best type of ventilator now required in the fight against COVID-19 the order will not be taken further. Whilst very disappointed due to the hard work by all, we are immensely proud of what the whole Omega and BlueSky teams achieved. This was an unbelievable combination of technical and engineering skills, project management and tireless dedication.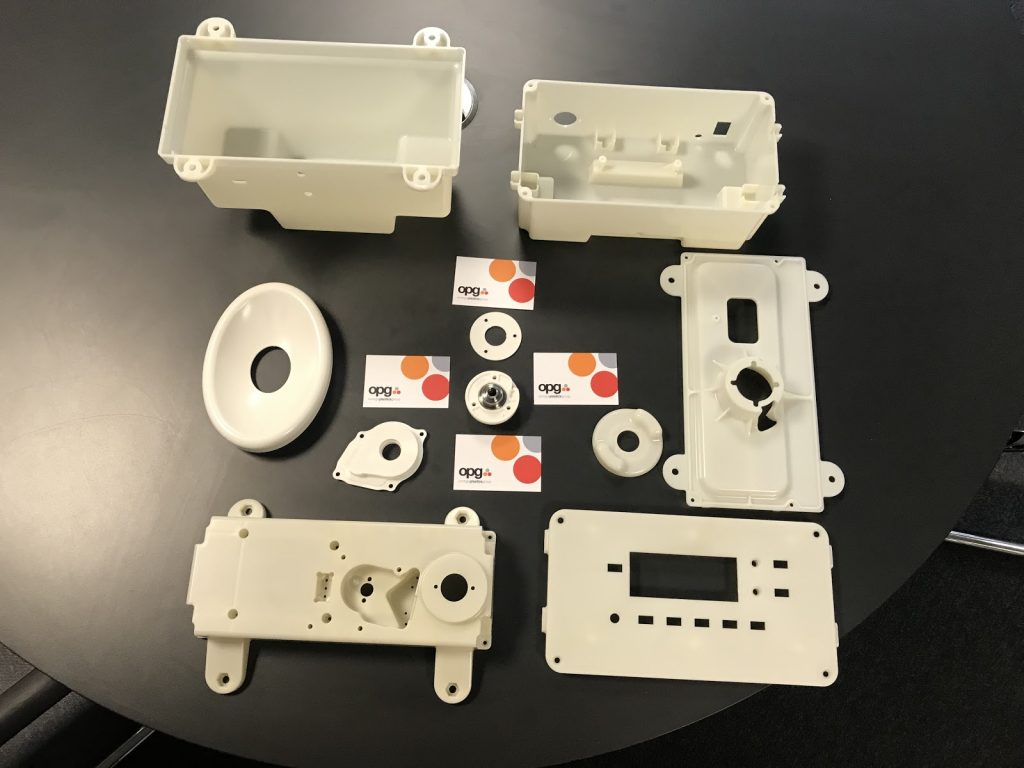 We are also proud to be supporting a local company supply over 1,500 face shields a day to North East hospitals or care homes. We worked with them to rapidly develop and manufacture a P20 tool for the headband within 2 weeks and are now supplying over 1,500 injected moulded parts daily. We are also currently manufacturing 3 tools to provide respirators, for hospitals in the North West.
Omega Plastics, Team Valley – FULLY OPERATIONAL
Omega Plastics remains FULLY OPERATIONAL to continue to support medical and other customers. Where possible, colleagues are working remotely from home to reduce the number of people on site at our Team Valley facility. For those who are working on site we have put in place measures to adapt the site and to change our working practices to ensure good hygiene and to maintain social distancing.
We continue to discuss with existing and new customers how the current position is impacting them and how we can continue to support them. We are also working with several customers to rapidly develop replacement tooling or to transfer tooling where they are seeing an impact to their UK or worldwide supply chains and have an urgent need for product.
Our toolroom is currently supporting COVID 19 and medical projects along with other customer work. However, we are working with customers to understand their need for moulded components and assembly in the short term to allow us to build an updated plan during this week for moulding activities at Team Valley during May and June.
Signal Plastics, Washington –SUSPENSION TO CONTINUE UNTIL AT LEAST FRIDAY 8 MAY 2020
We have taken the decision to extend the temporary suspension of operations at Signal Plastics until at least Friday 8 May 2020 to coincide with most of Signal's automotive or other customer's shutdowns.
This remains a temporary closure and is no reflection on the fantastic team or the business. Signal had just completed the strongest quarter in the company's history, and we are immensely proud of our colleagues as the business continues takes a break.
We will continue to review the situation and talk to our customers and will look to resume operations and welcome our colleagues back as soon as it is reasonable to do so.
Contact details
If you have any additional queries, please do not hesitate to contact your OPG representative. Our contact details are on our website which you can find by clicking here.
Alternatively, you can contact a member of our Executive team directly as follows:
Craig Swinhoe (Group Managing Director) – craig.swinhoe@omega-plastics.co.uk
Mark Thornton (Interim Group Finance Director) – mark.thornton@omega-plastics.co.uk
Peter Sayer (Group Commercial Director – peter.sayer@omega-plastics.co.uk
Dave Crone (Senior Technical Director) – dave.crone@omega-plastics.co.uk
Julian Jamieson (Group Operations Director) – julian.jamieson@omega-plastics.co.uk
I would like to thank all colleagues at our group. Their dedication to continue to support our customers over the last 6 weeks has been unmatched. We also send our best wishes to all customers, suppliers and business partners and their families and friends – please stay safe and well.
Craig Swinhoe
Group Managing Director