Omega Plastics was formed in Gateshead in 1998 as a joint venture with Omega Plastics Inc from the United States. The business was acquired by its current owners in 2006. It moved from Gateshead to new purpose-built 10,000 square feet premises in Blyth in 2007 and following growth added a second 10,000 square foot site in Hartlepool in 2012. In 2015, to increase its production moulding capability, it acquired Signal Plastics in Washington to form Omega Plastics Group.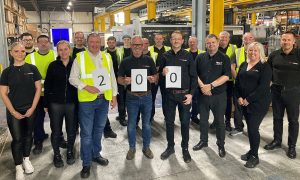 In 2016, Signal Plastics moved from 12,000 to 45,000 square feet premises in a much larger Washington facility and in 2019, Omega Plastics relocated their two operational sites from Blyth and Hartlepool to larger 43,500 square feet premises and a new head office in Gateshead.
Since its establishment, Omega Plastics Group has experienced consistent growth, with a headcount of 25 in 2012, increasing to 50 in 2015 and 100 in 2019. Turnover in that period grew from £5m a year to £10m a year.
The group's dedication to exceptional quality and customer satisfaction has been recognised through various accolades, including the prestigious North East Company of the Year award in 2017.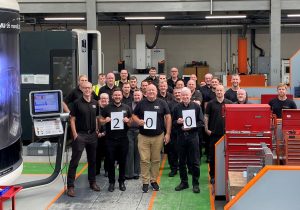 That growth has continued through the COVID pandemic, supply chain and cost of living challenges. Turnover has grown from £10m a year to now approaching £15m a year and the addition of a further 100 permanent roles across both sites to support this, underscoring the strategic direction, resilience and dedication of the group and the support of its customers.
"At Omega Plastics Group, we are proud to celebrate the milestone of employing over 200 colleagues," said Craig Swinhoe, Chief Executive Officer at Omega Plastics Group. "This achievement is a testament to our unwavering commitment to delivering exceptional customer service and high-quality products. We are excited about the growth we have achieved and proud of the talented team that drives our success."
In addition to the expansion of its workforce, Omega Plastics Group has recently committed to being a Real Living Wage employer. By voluntarily adopting the Real Living Wage, the group demonstrates its dedication to fair pay and supporting the financial wellbeing of its employees.
"Our mission at Omega Plastics Group is to provide high-quality plastic injection mould tooling, components, assembly, and technical solutions, all delivered with exceptional customer service," emphasised Dave Crone, Senior Technical Director and Co-owner. "By becoming a Real Living Wage employer and implementing a comprehensive range of benefits, we strive to create a safe, sustainable, and rewarding environment for all our colleagues. I am immensely proud that we have grown from a start-up in 1998 to reach the milestone of 200 permanent roles, and the opportunities that we are able to provide in both Gateshead and Washington".
As a leading integrated provider of plastic injection mould tooling, components, assembly, and technical solutions, Omega Plastics Group has established itself as a trusted partner across multiple sectors in the UK.
Omega Plastics Group is driven by a clear vision to be the leading integrated provider of plastic injection tooling and moulding solutions in the UK, while also serving as a sustainable and significant employer in the North East. The company's guiding principles, which prioritise safety, customer focus, on-time delivery, accountability, continuous improvement, and teamwork, form the foundation of its operations.
"We believe in putting safety before anything else, understanding our customers and their needs, and delivering on time and right the first time," added Julian Jamieson, Group Operations Director. "Our dedicated team, guided by our principles, works together to reduce waste, improve processes, and ensure that we are audit-ready every day. We are committed to fostering a culture of respect, support, and continuous development."