Following our merge in 2015, our sister company Signal Plastics have moved into their new premises in Washington.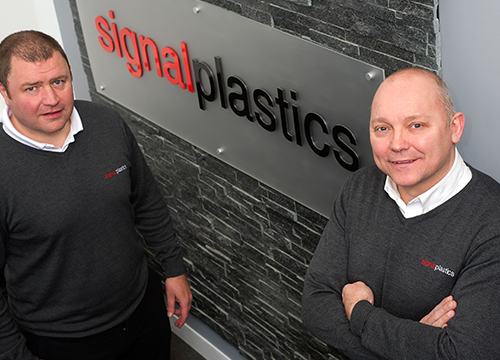 Over £1m has been invested in our new 42,700 sq ft facility on Bentall Business Park having previously been located on Washington's Crowther Industrial Estate.
The ground floor of our new facility will accommodate our state of the art manufacturing plant and the first floor will be the new base for staff and management of our parent company, Omega Plastics Group.
Alan Franklin, managing director of Signal Plastics, said: "We've seen significant growth in demand for our high volume automotive moulding range and we needed more space in which to accommodate new plant and machinery. At almost five time the size of our previous site, the unit at Bentall Business park fits the bill perfectly by remaining in Washington we've been able to ensure a smooth transition for our supply chain partners and employees.
"It also helps being able to house all of our parent company's staff and management under the same roof so this really is the ideal location for us."
As well as relocating Signal Plastics, we have retained our production facilities in Blyth, Northumberland and Hartlepool on Teesside.
All of our 41 Signal Plastics employees will be based at Bentall Business Park and the site will also provide hot desks for team members visiting from Blyth and Hartlepool.
One of our biggest pieces of machinery to be installed at the site is a new £400,000 1,300 tonne injection moulding press and overhead robotic equipment. Our investment at Washington also includes 800 tonne, 500 tonne and 180 tonne machines and there are plans for further investment in additional new machinery in 2017.
Manufactured by Negri Bossi, world leaders in plastic injection moulding plant and machinery, the press and auxiliary equipment enables us to produce more and larger parts for the automotive sector.
As well as manufacturing automotive components, as a group, we also provide bespoke rapid and production tooling products and plastic injection moulding to customers across a range of sectors including healthcare, electronics, FMCG and bio-tech.