Phil Myers joins Signal Plastics as our new Production Planner. This has role been created as demand continues to increase at our Washington facility across areas.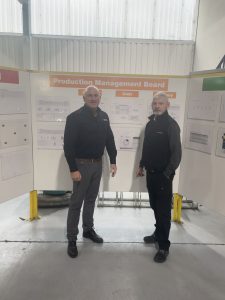 Phil has over 20 years experience in production planning, operations and control, and 15 years of this has been spent in the plastics industry. This role therefore compliments his experience as the Production Planner at Signal Plastics.
Phil told us: "It's great to be part of a company that is clearly growing, the experience from this role will develop my skills and open up avenues for further work in this business".
Before working at Signal Plastics, Phil completed a self-taught Microsoft Office skills course, and as a result of this he acquired the Microsoft Office Specialist certification. He explained that the skills he learnt on this course are well-suited to his new role, as he works with complicated spreadsheets on Excel on a daily basis within his role.
If you are interested in working for Omega Plastics Group please click here.
To follow future company updates please click here.
If you wish to contact us please get in touch, email sales@omega-plastics.co.uk, or call us on 01670 541 890.