As part of Sunderland's Work Discovery Week back in June, Omega Plastics opened our doors to a group of students to allow them to see what goes on behind the scenes of a busy factory.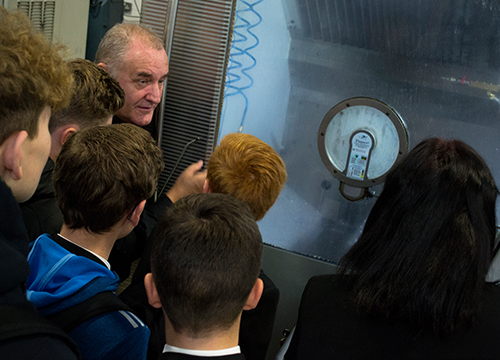 Now in its fifth year, Work Discovery Week is part of the wider Work Discovery Sunderland programme, set up by the Business Schools Task Group to forge better relationships between Sunderland students and the region's leading businesses.
The week-long event brought together more than 50 North East businesses and more than 1,000 young people from Sunderland who participated in a range of activities including a careers fair, hands-on activities, business challenges and visits to leading employers.
Omega Plastics hosted a factory tour for 15 students aged 15-16 from Monkwearmouth Academy in Sunderland.
To kick-start proceedings, the students were first introduced to Omega Plastics' marketing and CSR manager, Megan Carr who conducted an introductory talk about career opportunities at the firm and about the different route that the students themselves could take into engineering before handing over to our quality manager, Paul Anderson and sales director Norman Hoggett who conducted the tours of the factory.
"Split into two smaller groups, Paul and I showed the students around the moulding and tooling departments at the factory in turn before swapping over," Norman explained.
"During the tour, we talked to the young people about the different services that we offer to our customers and showed them some of the exciting products that we create.
"We spoke about the different sectors that our products are used in and explained about the different kind of plastic that we work with, their properties and the environment impact of using plastic in manufacturing instead of less widely recycled materials."
Megan Carr, marketing and CSR manager at Omega Plastics, said:
"We were delighted to partner with Work Discovery Sunderland to get involved with this year's Work Discovery Week.
"The children were all very engaged and enthusiastic and asked some great questions. We will look forward to inviting more school groups back to the plant in the future."
Howard Kemp, co-chair of Work Discovery Sunderland and head teach of Farringdon Academy, praised Omega Plastics for supporting the event.
"We are delighted that Omega Plastics agreed to support this year's Work Discovery Week and give a group of students a real insight into the company's work.
"This was a great opportunity for them to see at first hand the career opportunities available in this sector and what it's like to be part of an award-winning organisation."