'Only 7% of parents would encourage their girl to pursue a career in engineering.'
This statement, which was put forward in a recent article, was the result of research conducted by the Institution of Engineering and Technology. The research also revealed that parents could be limiting their child's future career decisions by having outdated perceptions of the jobs they believe male and females should be interested in.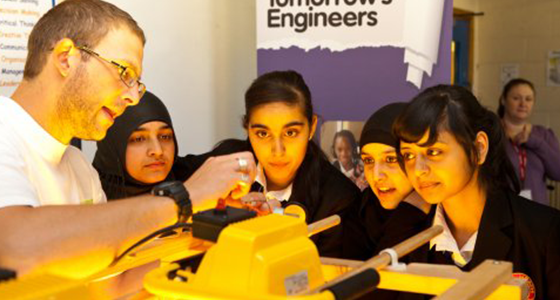 Engineering sectors are crucial to the UK's economy, supplying an estimated £455.6 billion to Gross Domestic Product in 2014. Additionally engineering sectors are estimated to employ 5.6 million of the UKs population which is the equivalent of 18.2%.
Regardless of STEM subjects (Science, Technology, Engineering and Maths) being the most popular subjects among girls, only 6% of our engineering workforce is female.
"STEM subjects for the backbone of the engineering industry and help it continue growing and innovating. We see clearly from this research that girls do have a genuine interest in these areas but this doesn't translate to the number of women entering the engineering industry." – William Webb, Institution of Engineering and Technology president.
Webb further states that there is a serious need for better engagement with young people, girls in particular, and their parents.
What must also be highlighted is that although there have been constant low numbers of girls engaging with a career in engineering in the UK, overall numbers of both girls and boys are beginning to decrease, causing concern and the need for additional research.
When asked what they knew about engineering, only 46% of children stated that they knew about the different careers and opportunities in the industry, leaving 54% saying they weren't aware. Furthermore 41% of parents stated that if their children were to ask for advice regarding a career in engineering, they feel they wouldn't know enough to support them. Both of these figures are even high with girls and their parents.
Because of this it is argued that perceptions must be changed of what modern engineering is all about and what it can offer future generations in terms of a career.
"As a community we need to overcome negative and/or outdated perceptions of engineering to encourage more young people to consider it as a career option" – Paul Jackson, Chief Executive of Engineering UK
Today there are various programme that have been put in place to increase awareness of the opportunities the engineering industry has to offer for young people.
Engineering a Better World is a campaign which looks to engage with parents and their children about the exciting career prospects within the industry. This programme gives parents both the information and the tools they need to support their child in becoming future engineers.
Alternatively a campaign known as WISE aims to promote women in science, technology and engineering careers and inspire women to study and build careers within those industries.
At Omega Plastics we have always been avid believers in educating our future generations about the wealth of opportunities within our industry. Through creating a number of relationships with local schools, colleges and universities we have been able to provide educational factory visits, apprenticeships and student placements and next month we will be hosting our first Girls in Engineering visit.
The visit itself has been organised by the Hartlepool College of Further Education and the aim is to provide young girls with an insight into what a day in the life of an engineer entails.